alt.timers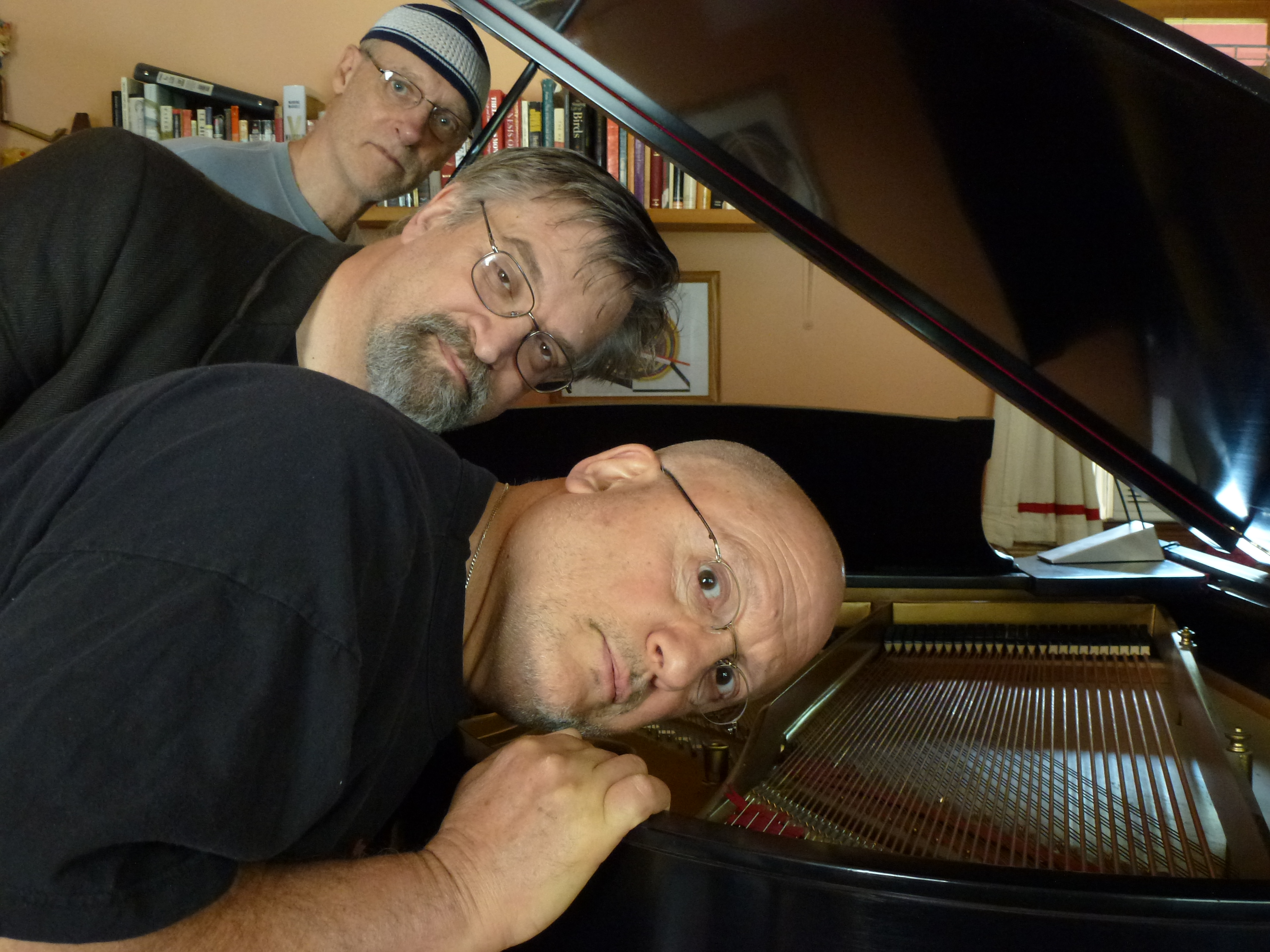 Denman Maroney, piano & compositions
Ratzo Harris, bass & compositions
Bob Meyer, drums & cymbals
Recorded at Systems Two, Brooklyn NY, November 17-18, 2015.
alt.timers is a trio of old timers keeping alternate times at all times and in so doing maybe avoiding Alzheimer's. Call it cubist jazz. In most music you relate to a beat. In ours you pick a beat to relate to. Pick another, and your perspective changes. This is natural. Time is relative. Stars, planets, moons, clouds, waves, birds, insects, our own arms, legs, eyes, lungs, hearts, minds and even DNA all keep relative time. Pulse fields are palindromes, and DNA contains Clustered, Regularly Interspaced, Short Palindromic Repeats (CRISPR). We all hear different drummers, but this music finds the harmony in that. If we can hear it, maybe we can all get along.
"Pianists have been tinkering with the guts of their instruments for nearly a century now, but it's altogether likely that no one has explored the art of prepared piano as diligently or creatively as hyperpianist Denman Maroney." – Time Out New York
Pianist and composer Denman Maroney takes his inspiration from nature and composers like John Cage, Ornette Coleman, Henry Cowell, Duke Ellington, Charles Ives, Scott Joplin, Olivier Messiaen, Thelonius Monk, Conlon Nancarrow, Harry Partch, and Karlheinz Stockhausen. He uses extended performance techniques he calls hyperpiano and rhythmic ideas he calls temporal harmony to write and play in multiple tempos. He has recorded and performed with Rez Abbasi, Dave Ballou, Theo Bleckmann, Jane Ira Bloom, John Butcher, Michael Dessen, Robert Dick, Dave Douglas, Mark Dresser, Andrew Drury, Marty Ehrlich, Peter Evans, Miguel Frasconi, Phil Haynes, Gerry Hemingway, Tim Hodgkinson, Earl Howard, James Ilgenfritz, Leroy Jenkins, Lisa Karrer, Briggan Krauss, Dominic Lash, Paul Lytton, Rudresh Mahanthappa, Mat Maneri, Alexandra Montano, Michael Moore, Angelika Niescier, Kevin Norton, Rich O'Donnell, Barre Phillips, Reuben Radding, Tom Rainey, Ned Rothenberg, Mary Rowell, Michael Sarin, Megan Schubert, David Simons, Josh Sinton, Hans Tammen, Min Xiao-Fen, and Matthias Ziegler among others.
"Ratzo defies musical gravity as he explores, wanders and expounds upon the outer reaches of his instrument." – Peter La Barbera, The Jazz Zine
Ratzo Harris is an innovative bassist and composer who has applied extended bass techniques while working and recording with some of the greatest musicians of our time. Ken Werner, Judi Silvano, John Handy, Charles Lloyd, Joe Lovano, Jon Hendricks, Ted Curson, Tim Berne, Betty Carter, Helen Merrill, Les Paul, Joanne Brackeen, Joe Henderson, Jim Pepper, Bruce Arnold, and Betty Buckley are just a few of the artists who have repeatedly called on his services for concerts, tours and collaborations.
"Meyer added color changes with his ride cymbal. During Moore's bass solo Meyer displayed exceptionally skillful playing, using his snare in clairvoyant unity with Waldron's left-hand comping." – Earshot Jazz (Seattle)
Drummer Bob Meyer has had a long and distinguished career, playing and recording with Joe Lovano, John Scofield, Ed Schuller, Ken Werner, Judi Silvano, Perry Robinson, Glenn Moore, Cameron Brown, Andy Statman, Sheila Jordan, Ray Nance, Art Davis, Jaki Byard, Paul McCanless, Julian Priester, Gary Peacock, Peggy Stern, Bert Wilson, Diane Schurr, Stanley Cowell, Mal Waldron, David Friesen, Jim Pepper, Red Rodney, Itzhak Perlman, Arnie Lawrence, James Moody, Kirk Leitsey, Avishi Cohen, Wayne Horvitz, John Abercrombie, Drew Gress, Mike Bisio, Don Friedman, James Emery, Tony Malaby, Essiet Essiet, Santi Debriano, Vic Juris, Harvey Wainapel, Peter Barshay and Mel Martin among many others. He is co-leader of Jackalope with John Abercrombie and Loren Stillman; The New Quartet with Abercrombie, Adam Kolker, Johannes Weidenmuller; and his own group, Mount Airy, performs Jewish liturgical music in a modern improvisational style.
alt.timers has performed at Shapeshifter Lab, Cornelia St. Cafe, Firehouse Space, Barbes, Spectrum, Klavierhaus, the Stone (all in New York), and An Die Musik Live (in Baltimore) among other venues.